Ezekiel
Biographical information
Born
c. 1989
Died
April 6th, 2003
Reborn
April 6th, 2003
Alias
Omega
Title(s)
Potion Making Professor
Physical description
Species
Gender
Male
Hair colour
Brown
Eye colour
Brown
Skin colour
White
Family information
Family Members

Unnamed father †
Unnamed mother †

Magical characteristics
Basic Powers
Active Powers
Other Powers
Affiliation
Occupation
Loyalty
Character information
First appearance
A Witch Tail, Part 1
Last appearance
The Reason
Portrayed by
Ryan Kelley
Ezekiel is the son of two unnamed parents, and a whitelighter who the Charmed Ones first met in "A Witch Tail, Part 1".
Powers and Abilities
Edit
Basic Powers
Spell Casting: The ability to cast a spells and perform rituals.
Potion Making: The ability to brew potions.
Scrying: The ability to locate an object or person by use of a crystal and a map.
Active Powers
Telekinesis: The ability to move objects and individuals with the mind.
Other Powers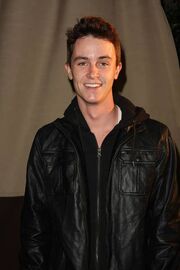 Appearances
Edit
Ezekiel appeared in a total of 60 episodes throughout the series and 15 issues so far.
A Witch Tail, Part 1
A Witch Tail, Part 2
Happy Ever After
Siren Song
Sam, I Am
The Importance of Being Phoebe
Centennial Charmed
Main Cast: starting with House Call
Season 6 to 7
Edit
Main Cast
Did not appear in Love's A Witch and Scry Hard
Mortal Enemies
The Heir Up There
The Charmed Offensive
The Heavens Can Wait
Reversal of Misfortune
The Darklight Zone
The Power of 300
Season 10
Edit
No Country for Old Ones
Charmed Assault
Whatever Happened to the Demon with a Soul?
Love is a Burning Thing
Fear Always Comes Back
Tribunal and Tribulations
Something Old, Something Prue
The Reason
Ad blocker interference detected!
Wikia is a free-to-use site that makes money from advertising. We have a modified experience for viewers using ad blockers

Wikia is not accessible if you've made further modifications. Remove the custom ad blocker rule(s) and the page will load as expected.